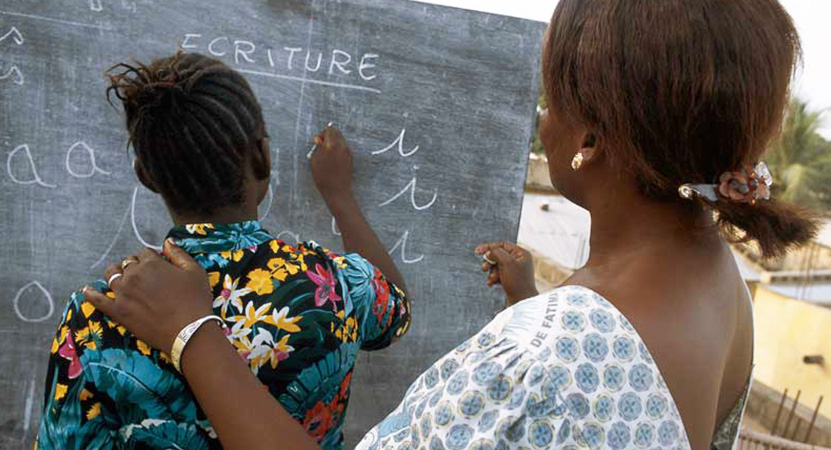 No matter where she lives
Every girl and woman has a right to education
This is what the world looks like for someone who cannot read or write. And now imagine you have to stand up for yourself against discrimination or to defend yourself in court. The fact is that education is a primary human right which is fundamental for our ability to exercise all our other human rights.
Yet 17 per cent of adults across the world cannot write or read, two thirds (493 million) of them women – a proportion that has not changed much in the past 20 years. Women and girls trying to access education continue to face many barriers: from pressure for early marriage and domestic responsibilities to discrimination in the job market.
In spite of this, there is firm evidence that educating women does not just empower them but benefits society as a whole. Boosting the education of women contributes to reducing poverty, promoting economic development and addressing the world's most urgent challenges such as conflict resolution and health issues.
Thankfully, some women nevertheless manage not only to break through those barriers, but also raise their voices to remind us of the injustices women face.
One such example is Hauwa Ibrahim, the 2005 winner of Sakharov Prize for Freedom of Thought, who became the first female lawyer in Nigeria. Today Hauwa defends people who otherwise would not have any access to justice due to their illiteracy. Many of them are women accused of adultery and condemned to death under Sharia law.
Malala Yousafzai, the 2013 winner of Sakharov Prize and the 2014 Nobel Peace Prize laureate , is also a global symbol of the fight for girls' right to education. Following an assassination attempt by Taliban gunmen while returning home from school in 2012, Malala has been more determined than ever in her fight for the right to female education, freedom and self-determination.
In the EU the right to education has been anchored in the Charter of Fundamental Rights of the EU, which states that: "Everyone has the right to education and to have access to continuing and vocational training" (Article 14).
However, this does not mean that Europe does not face its own problems related to gender discrimination in the field of education. The EU expects a shortfall of 24 million workers by 2040 if women's workforce participation rate remains at its current level. Even today, productivity per worker could rise by up to 40 per cent if all forms of gender discrimination were eliminated.
To this end, the European Parliament advocates for literacy and women's empowerment on various levels. For instance, digital literacy through the flagship initiative Digital Agenda for Europe to ensure equal access for all citizens, or health literacy to promote better prevention. The European Parliament is also working to ensure that the right to education and the equal treatment of women and men are at the forefront of European policy.
Despite the EU's firm commitment to equality on the policy side of the problem, there are still underlying societal barriers at the root of gender inequality: for example, only a few girls take science and technology classes in school as those continue to be perceived as "boys' subjects". This, in turn, leads to fewer female graduates and fewer women working in areas such as engineering or physics – despite the fact that overall more than half of all new university graduates in the EU are women.
On the other hand, social care jobs such as childcare or nursing are largely feminised.
The barriers, which often prevent both women and men from choosing certain jobs, is rooted in discriminatory gender stereotyping about what 'real' women or men are supposed to be like. To this end, the European Parliament, amongst other initiatives, is developing "A new strategy for gender equality post 2015" which proposes actions to be taken by the European Commission and other major actors to achieve gender equality by 2020. It also aims to extend the discussion on this topic beyond International Women's Day through a report on "Empowering girls through education in the EU".
Equal access to education and equal rights are not just women's issues or issues that affect only certain countries: they affect both men and women, within Europe and outside it.