Every story a world
Wonderful mothers of the "Congreso Family"
Philadelphia, PA.- I am convinced that every life story really deserves a book, a Best Seller, a movie. Every life is worth telling, and from which anyone could learn great lessons. Each life has a purpose, and all contain moments of great joys and achievements, as well as great moments of pain and loss.
The Congreso Family gave me the opportunity to interview 4 powerful women, through them to honor all the mothers who are part of this great family, which is more than a slogan. If something I could perceive in this meeting with some employees of Congreso that work in different positions of the organization chart, is that regardless of their rank, their department, or if they have much or little time working for one of the major Latino agencies of the nation. All are really considered part of a family, in which each of them has been shown with facts that they can count on the affection, understanding and solidarity of what is their second home.
By: Perla Lara – Photos: Melquiades Rodriguez
These are more than four stories of life–they reflect diverse realities of our Latino community in this city.
Lohanny Ramos:

From client to employee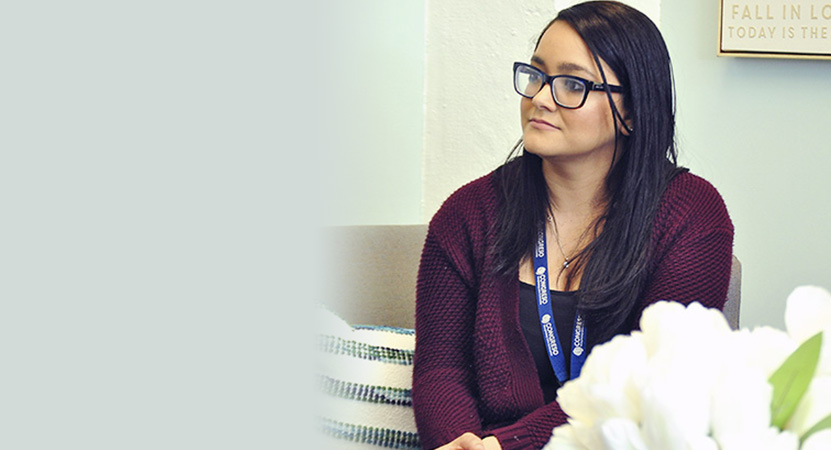 She was 16 when living with her grandparents in Florida, got pregnant; The first reaction of the grandmother was to tell her that she would have to leave her studies and concentrate on raising her baby. But Lohanny did not want that for her or her son, so she decided to immigrate to Philadelphia, and start a new life with the help of the parents of the baby's dad. Someone told her about one of Congreso's programs, which help teenage mothers get a job and continue their studies. Lohanny remembers earning about $ 6 an hour, forming part of workshops for other girls, just to prevent teenage pregnancies.
She and her husband managed to continue their studies. She remembers that the two of them took turns taking care of their baby between classes, and they also sought help at low cost to care for their child. It was not easy but thanks to the help of a large network of support, both managed to graduate and now have a wonderful son who is 11 years old, and they are able to pay the tuition at a private school.
Since then, for many years, he has taken advantage of the help as a client of Congreso to make her tax returns, and when she learned that she had the possibility of working for them, having studied public administration, she did not hesitate to apply. She is currently part of the team that is responsible for the evaluation of the agency's data, offering assistance to workers and also in the analysis and development of the 50 programs that serve the community, predominantly Latino and mostly Puerto Rican.
She is very grateful for what she has achieved so far, and she feels that the practical help that Congreso gave her when she needed it the most is something that changed her life and that really impacted her destiny.
Lohanny continues her studies currently in a specialization at Villanova, although it is not easy to have a full-time job, to be a student, housewife and mother. She treasures the illusion of giving birth to another fruit of love, and is also aware of the responsibility and effort that her dream entails.
Miriam Figueroa:

Preparing for what comes
She had no simple life at all, her mother grew up without the help of her father and had 5 other brothers. At the age of 19, she became a mother and currently lives with her husband's 5-year-old daughter and her 13-year-old stepdaughter.
It is a challenge to be so young and have a teenager in the house, but she tries to remember what her thoughts and feelings were at that age, to try to help her partner in raising his daughter; Also for Miriam it is an opportunity to train in this difficult age, to be better prepared for when the time comes for the adolescence of her own daughter.
Miriam works to support students at Harcum College of Congreso, it is a job that satisfies her enormously, as well as helping young and not so young people to navigate and provide them the way to get the help they need to achieve their academic goals, she is able to continue studying and caring for his family. As the time during the week is limited, the purposes of the use to dedicate to his family time of quality. It is their priority.
She has not always had the support of her partner because as Miriam's father he has also had to pay bills with the Law, which is why although he knows the importance of having a father figure, and that his absence hurts, she also knows that with a mother like the one she had, striving to meet the greatest number of needs of the children, it is possible to grow and be fulfilled.
Hence the importance for her, to continue studying, so that in each case she has the opportunity to take care of her daughter alone, and not be forced like her mother, to have up to three jobs to get on with life.
Sybille Damas:

Surviving and smiling
The history of Sybille has another peculiarity, she is not Latina like the other interviewees, all of them of Puerto Rican origin. She is also the daughter of immigrants, but her parents came from Haiti. They are currently retired in Florida, but they did not hesitate to come and be with her at a time of great need. Sybille has a successful upward career.
For about 5 years she worked at APM and in 2003 she became part of the of the Congreso Family. She is currently the head of the operations department and her work impacts many areas, especially she is committed to the area of human resources, trying to offer the best for employees both materially and humanly. With great candor and warmth Sybille over the years has given Congreso the best of herself, even in those difficult moments that undoubtedly put her to the test, as anyone who has to go through the difficult battle of surviving cancer.
She was still in her 30s when by chance touching her chest she detected something different in her body, something that reminded her of how she felt when she had touched the tumors of a dear friend who was going through that process a while ago and that in hers case resulted in her death.
Her friend Marija T did not survive, but it was a great inspiration for her, who faced the disease convinced that a radical mastectomy would not put an end to it. Sybille returned to work the day after chemo, her commitment to her work in Congreso, helped her to continue on the path of optimism, but in addition to the unconditional support offered by her colleagues, was also important how she faced that moment of her life. She also had two small children, the support she received from her parents, brother and sister-in-law, who moved to Pennsylvania in time to help her in whatever she required. Sybille is also very grateful to her husband, facing this painful journey.
She is currently free of cancer, and continues to pursue a healthy life, also setting an example to her daughters how to face the vicissitudes of life, which we cannot always be prevented, but she understands the need to be strong to prepare to face them.
Adriane Perez:

From listening to tragedies to living them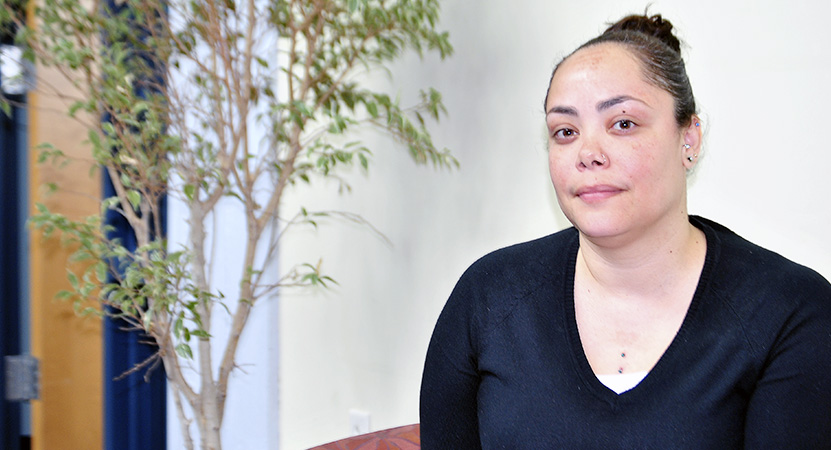 Adriane is not yet 40 and already she has a 22 years old son, of whom it is very proud and her face lights up with the mention of his name. Adriane was also a mother at the age of 16. She dreamed of studying nursing but it was too complicated, so she had to abandon those studies and study Psychology at Temple University, a career that was not so demanding and would allow her to go to work at Congreso later, where her mother also worked.
She has gone through several areas and programs but is currently a consultant for family empowerment (FES Case Manager) where she continually has to listen to very difficult stories and sometimes feels powerless, as there are cases where they can not give the help that the clients are looking for. They come usually for economic emergencies, however with the resources available she has helped as many clients as possible. For more than a decade and a half, Adriane has heard terrible family misfortunes, where poverty, addictions and other social scourges are the common element for many broken families. She has, over the years, intervened to empower the families she serves in Congreso.
However she has not been exempt from living in her own flesh, one of the most feared tragedies in the streets of North Philadelphia. Two years ago she lost her brother and in early 2017 her partner and father of her only son.
Difficult to hold back tears in the face of such a recent mourning, however, with amazing dignity, this courageous woman, thinks of returning to the classroom, and this time realizing her truncated project of studying in the medical school. She thinks her vocation is in nursing, and she plans to achieve that goal.
Her son who already has a good job with a competitive salary, still lives with her, and for both it is difficult to face this new reality of not having their loved one with them. The importance of not even having the responsible person behind the bars is also great. In two years Adriane has had to face the consequences of living in a city where violence and firearms, daily take away the life of innocent people whose only "mistake" was to have been at the wrong time in the wrong place. Although nothing will bring her loved ones back to life, she is infinitely grateful for the affection received from her colleagues and in general from the staff of Congreso, who have made her feel deeply that she is not alone and that she has them.
Honor to whom honor is due
All these mothers are carriers of extraordinary stories. Those are not easy and sometimes hopeless, yet they have in common, that all of them are non-conformist warriors, who decided to face life with determination.

They have made their own the saying: "What doesn't kill you makes you stronger". But they also were able to count with a support network that has made a difference in their lives and that is why they feel grateful to be part of the agency for which they work.

Congreso has been that network of support; In the same way, all of them pay tribute to their home, to their Congreso family, who congratulates them on this Mother's Day, and extends this recognition and congratulation to all the mothers of this great family. Congratulations!